Hardwood floors are known for being classic, beautiful, and luxurious, so you may be hesitant to add a rug that covers them. But for as beautiful as hardwood floors are, they aren't the softest spot for your feet to land. Area rugs are the perfect addition to pull a room together, make it feel homier, and provide some more comfort underfoot.
Whether you have real hardwood floors or faux hardwood in the form of vinyl or laminate flooring, there's a rug to match; you just have to look for it.
Size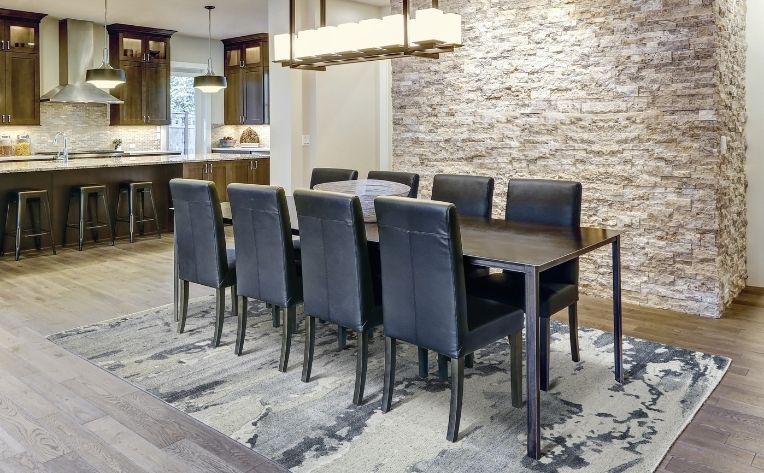 Divine in Slate by Nourison
Let's start with sizing. Typically, an area rug should cover just the seating area of a room, and all the furniture should sit on the rug or at least have its front legs on the rug. This makes the most-used part of the room feel tied together and welcoming to guests. If you have an irregularly shaped room or varied furniture layout, you can choose different rugs for different areas of the room. Just make sure that their colors and patterns don't clash. Size does matter here—if you choose a rug that's too small, it will make the room look disjointed rather than cohesive.
Color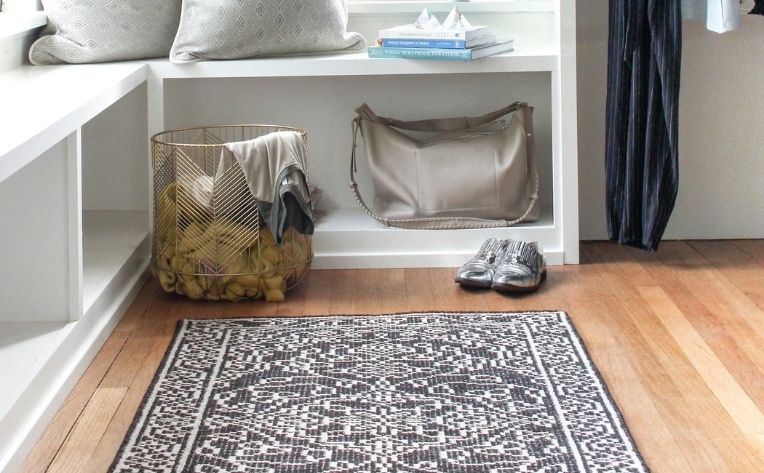 Herrara Collection in Charcoal by Kaleen
When choosing a rug for the room, there are a few different purposes it can serve, design-wise. Depending on the type or color of hardwood you have, you might want to choose a different color or texture of rug. If you've already paired dark furniture with hardwood floors, a large, light-colored area rug will brighten up the room from the floor up. Now, the thought of putting a light-colored rug in a room where people eat, drink, and walk may be anxiety-inducing for some. But, you can squash those worries by choosing a rug with a low pile to decrease potential trips and a stain-resistant rug in case you do trip with a full wine glass in hand. For dark hardwood, beige, white, gray, and light blues and yellows will match best. For light-colored wood, opt for brown, burgundy, and earthy-toned rugs.
For a rug that's meant to protect your floors from dirt and wear and tear, like a floor runner in your front hallway, choose something darker or patterned. Choose a rug color that is in a similar color palette to your floors and furniture to ensure that they all work together in a room.
If you're a pet parent, you might also want to consider your furry friend's hair color when choosing a rug color. You may love your hardwood floors, but as soon as you get a comfy rug, it's bound to become your pet's favorite spot to curl up—instead of their overpriced dog bed. So, if you have a black lab, opt for a darker rug, and if you have a golden retriever, choose a lighter rug.
Pattern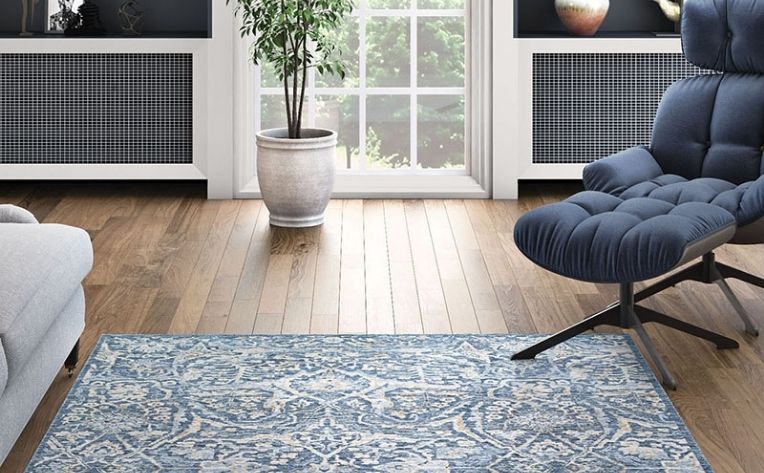 Couture Ballerine in Carolina by Couristan
After figuring out what color area rug might work in your space, you'll want to think about the pattern. Patterned rugs are great because they hide dirt, pet hair, and crumbs better than a solid colored rug. Southwestern and Oriental-style rugs are classic patterned options, but even just a solid, striped rug can complement your hardwood floors beautifully. When opting for a pattern, choose one that aligns with the size of the room. For a large room, a large pattern on a rug makes sense, but a large pattern in a small room won't look quite right. If there's already a lot of furniture in a large room, it may look better to choose a rug with a small pattern.
Safety
Divine in Aqua by Nourison
Rugs on hardwood floors pose some risk if you don't plan accordingly. You want to make sure you choose a non-slip area rug or add a non-slip rug gripper underneath to avoid some blooper-reel-worthy falls.
No matter what flooring you have, your local Flooring America experts are here to help you choose the perfect rugs to match. Start your next home improvement project with us today and find your dream floors fit for your lifestyle!